There are some people who always seem to bring delicious treats to pot lucks. These people also have wonderful get-togethers with well-thought-out menus with appetizers, wine pairings, and/or specialty cocktails. Well, that's definitely NOT me. I wish it were me, but the truth is that my success rate in the kitchen can be likened to one hit wonders (which I play on repeat until you decide to buy me dinner instead of coming over for dinner.)
What's my chart-topping hit you ask?
Chicken and ____! That's right, I'll thaw out some chicken breasts, marinate them in whatever marinade I find in my pantry, add some bell peppers, and in the oven it goes. I make some rice, and if I'm feeling adventurous I'll make a salad.
I'm not saying I've never outdone myself in the kitchen, but those times come once in a blue moon and usually happen when someone else was in the kitchen with me.  Then again, with a bar set so low, out doing myself sometimes isn't much about an amazing dish as it is about getting out of my routine and actually attempting something with more than three ingredients.
Here's one of my successes: Four Ingredient Bread! That's right…FOUR (4)! It's a delicious, easy homemade bread.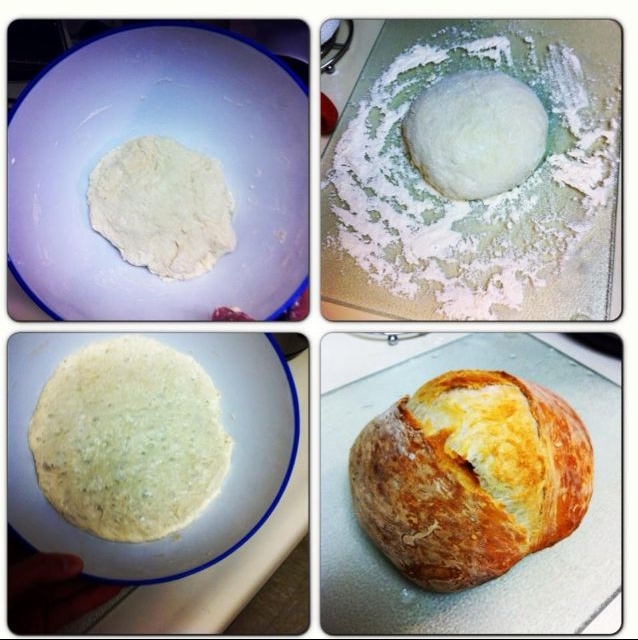 I found the recipe at the Simply So Good blog. (She has a ton of helpful hints and suggestions for additional ingredients.) Because baking is such a precise process, I followed the instructions step-by-step, and in the end produced a wonderful loaf of bread.  My husband was just as surprised as I was with my wonderful homemade bread, and he also really liked it. I used it to make fancy shmancy grilled cheese sandwiches.
Words of Warning
When I attempted to replicate my first success, I came out defeated. What was to be a homemade bread bowl for my spinach dip ended up being a salty brick.  (Pictures not attached)  So listen, don't get your measuring spoons mixed up. And make sure you have enough flour to roll the dough in before baking. Otherwise, you'll end up with a salty, biodegradable assault weapon.
I do have one useful tip; if you don't have a cast iron pot like the recipe calls for, you can use the inside pot from a crock pot and a glass lid from a baking dish that matches in size.  Don't put your crock pot lid in the oven because it is not oven safe.